Fishing in high altitude lakes:
Opening: 3 rd Saturday of June:
Closing: 2 nd Sunday of October:
These are all the lakes located above 1800m of altitude, all classified in 1st category
This morning, I did the fishing opening. Nothing new... There is still a pit inside.
Image
What is fly fishing?
To start fly fishing is first of all to equip yourself and understand how the thing works. The rod is thin and rather flexible, to cast a fly of a few micrograms it uses what is called a line which ends with a nylon or fluoro leader.
The mystery of the fly
The choice of a fly is a total mystery but there are some logical leads. There are several types of flies:
Dry flies that float on the water, in which we find mayflies, flies with beetles or other insects
the emergent ones which float in the film and which represent flies starting their life or which lay eggs
drowned flies which are, as their name indicates, flies that are underwater and sinking nymphs that imitate underwater larvae.
The reason fly fishing is so enjoyable is because it involves much more than catching fish.

Fly fishers claim to be sport fishermen, both because of the physical aspect it requires and because of a particular state of mind. An increasing proportion of fly fishers voluntarily release the majority of their catches, even those exceeding the legal catch size. This respect for the fish is part of a new approach that is attracting more and more people every day. Closer to nature and the environment, the fly fisherman enjoys fishing, the river and the fish (which he willingly considers as play partners), forgetting completely the food aspect.

Fly fishing with a guide
Image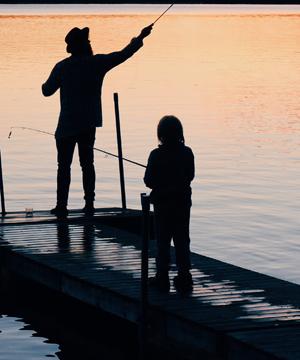 Become a responsible fisherman and practice "No-Kill"
It is not necessary to kill the fish to have fun! The fact of releasing the fish will bring us as much pleasure if not more, and do not forget to take a picture of your catch.

What you need to know to practice "No-Kill":
Crush the barb to unhook more easily the captured fish without hurting them.
Stay crouched to avoid a big fall (in case) of our catch.
Remember to wet your hands before catching the fish to avoid removing its protective mucus.
Catch the fish with a landing net.
Reoxygenate the fish by holding it in the water. Make it move back and forth in order to make water circulate in its gills
Your fish is now ready to go, Yippee!
Specificity of the regulation of fishing in high altitude lakes
By derogation, they are subject to specific regulations and opening periods because they are classified as 1st category (lakes at an altitude of more than 1800 meters - private domain).
In contrast, lakes located at less than 1800 m are in the 2nd category (e.g.: Eygliers lake), or in the free category (e.g.: Aiguilles lake only supplied during the summer season).
This fishing always reserves moments of pure freedom.
It is often after a few hours of walking that we reach the intimacy of these high altitude lakes.
What you should know :
The minimum size for trout, brook salmon and Arctic char is 20 cm.
The use of barbed hooks is forbidden except for fishing with dead or live fish, fishing with a spoon and fishing with an artificial fly.
Fishing from a boat or using any floating object is prohibited.
The only fish allowed for live or dead fish is the minnow "phoxynus-phoxynus" dead or alive.
The other provisions of the regulation of the 1st category are not modified.
The number of salmonids is limited to 6 fish per day and per fisherman. All fish, even live ones, kept in a basket during the fishing trip are considered as caught fish.
The fishing card is obligatory (Fishing without a card is an offence for which the fine is 180 to 360 Euros).
Some examples of high altitude lakes:
Lake Les Cordes
- Altitude : 2446m
- Surface (hectare) : 2
- Starting point on foot : Chalets les Chalps - Cervières
- Time (about) : 1h15
- Species present : Rainbow trout
Le Noir :
- Altitude : 2440 m
- Surface (hectare) : 0,8
- Starting point on foot : Le Chazelet - La Grave
- Time (about) : 2h45
- Species present : Rainbow trout
Lake Cristol
- Altitude : 2245m
- Surface (hectare) : 1,9
- Starting point on foot : Parking Bergerie - Saint Chaffrey
- Time (about) : 0h50
- Species present : Rainbow trout, Brown trout
The Oule :
- Altitude : 2425 m
- Surface (hectare) : 1,6
- Starting point on foot : Parking Col du Granon - Saint Chaffrey
- Time (about) : 0H50
- Species present : Fario trout, Arctic char

To know more about it
HANDI PECHE
Fishing for all with adapted infrastructures:
Lake of Orceyrette (1900 m of altitude, access by forest track):
Site equipped with a secure hand-fishing pontoon with vehicle access to the edge of the lake.
Open from the 3rd Saturday of June to the 2nd Sunday of October
Possibility of free fishing (fishing permit required)
No toilets
Les Alberts / la Clarée (Access by RN direction Montgenèvre Italy) :
Handi-fishing pontoon
No toilets
---
The Fishing Federation of the Hautes-Alpes gathers all the information related to fishing on the territory through a complete website that offers fresh news, practical information on the regulations, interactive map of fishing sites, ...
Opening of a House of Fishing and Nature in Briançon.
This new structure for fishermen and the general public will give us the possibility to welcome fishermen and non-fishermen, to exchange and to better communicate on this leisure.
Various theoretical and practical fishing-nature workshops will be held in these premises, including interventions with primary and secondary schools.
To raise awareness about the aquatic environment, protection and restoration of waterways.
To participate in actions such as Clean Rivers every other year in an urbanized part of Briançon which in 2021 brought together more than 50 fishermen and non-fishermen of all ages.