Climbing mountain passes by road, whether by bike or motorcycle, is like entering the legend of the Tour de France climbers, but it's also one of the best runs you can experience as a biker.
Looking for wide open spaces, panoramic views, beautiful curves to follow on two wheels... Our roads are like no others.
They take you up there and then into another valley where everything changes...
The charm of high-altitude passes. To climb a mountain pass by road, whether by bike or motorcycle, is to enter into the legend of the Tour de France climbers, but also to experience one of its most beautiful runs when you're a biker. A mountain pass road is not like any other.
In Serre Chevalier Vallée Briançon, we're lucky enough to have two of the most mythical, on a road already renowned as La Route des Grandes Alpes.
Image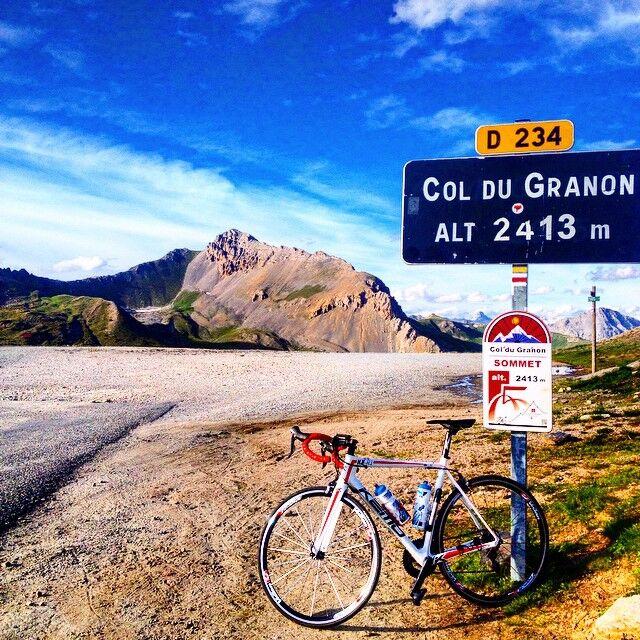 Le Granon
On the west side, don't be fooled by its climb - just 11.5 km - but rather by its vertical drop: 1040m. With an average gradient of 9%, it leaves no respite for the bold who tackle it.
On the east side, it can only be tamed by mountain bike. It's an arduous ascent and a beautiful descent.
The Granon, the ogre of the Briançonnais at 2404 meters altitude, is one of the most difficult and demanding passes in Europe, with an average gradient of 9.2%.
Image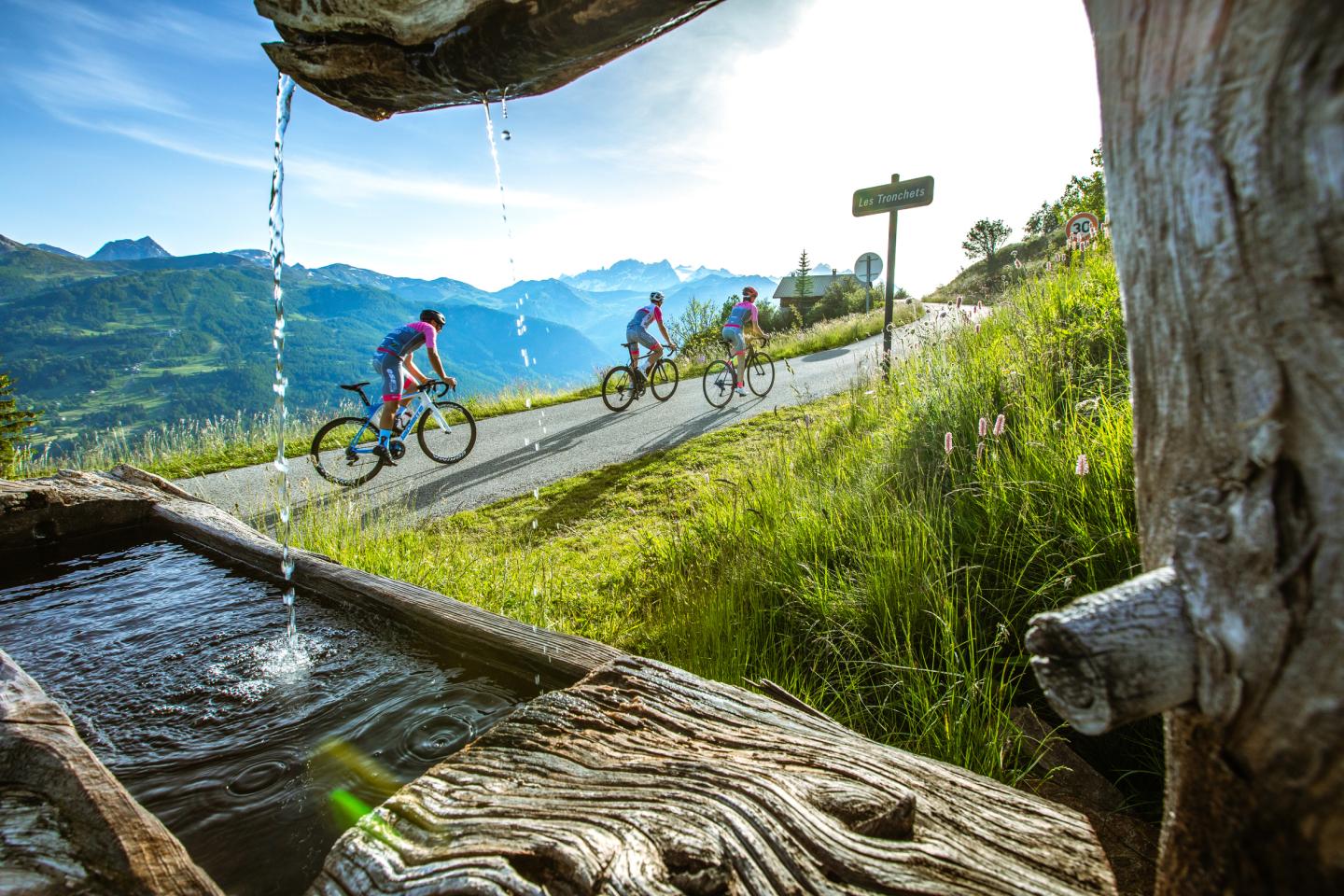 Copyright
Alpes Photographie
Photo
Image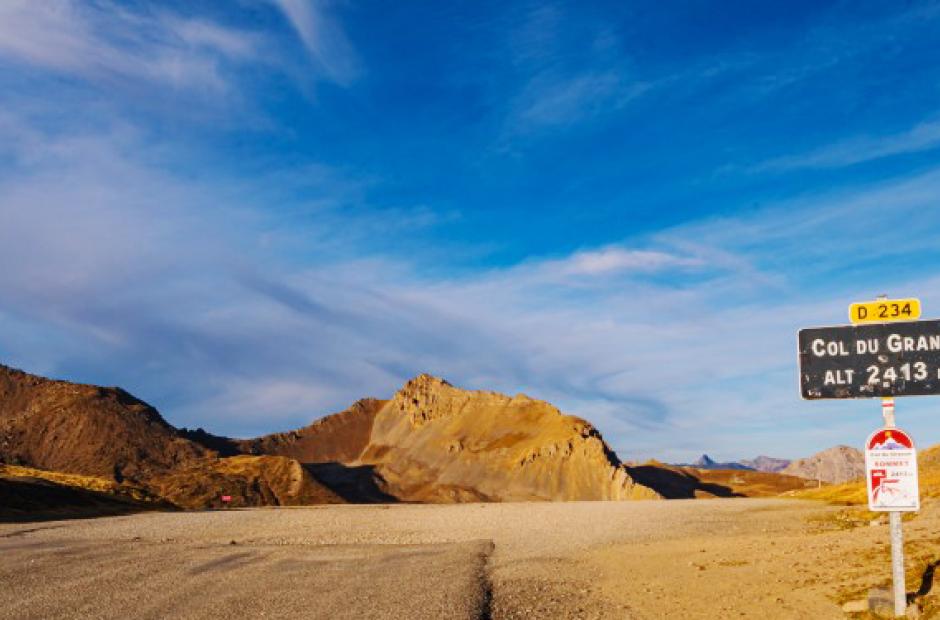 Titre
Our accommodations with bike room
Le Galibier, ROI de la Vallée
Situé à 2645m d'altitude, ce qui en fait le cinquième plus haut col routier des Alpes françaises, le Col du Galibier offre une vue à 360° exceptionnelle. De là, on peut admirer les glaciers de la Barre des Ecrins et de la Meije, toute la station de Serre Chevalier Briançon, mais aussi une des Aiguilles d'Arves, le Pic de Rochebrune, dans le massif du Queyras et bien sûr, le Mont-Blanc. Son ascension, combinée avec celle du Col du Lautaret, est absolument incontournable pour tout cycliste qui se respecte. Quant à sa descente, réalisée également en VTT, elle permet de traverser les villages pittoresques du Lauzet, des Boussardes et du Casset, jusqu'au Monêtier-les-Bains.
Les amoureux de la petite reine et les gros braquets auront la larme à l'oeil en se rappelant Henri Desgrange devant la stèle qui lui est dédiée : "Oh, Sappey ! Oh, Laffrey ! Oh, col Bayard ! Oh, Tourmalet ! Je ne faillirai pas à mon devoir en proclamant qu'à côté du Galibier, vous êtes de la pâle et vulgaire bibine : devant ce géant, il n'y a plus qu'à tirer son bonnet et à saluer bien bas." Créateur du Tour de France, il déclamait ainsi son admiration durant le Tour de 1911. Et bonne nouvelle : défier le Galibier par Briançon est plus facile que par Valloire quand on n'a que ses mollets pour moteur !
Image
Titre de la vidéo
LE COL DU GALIBIER - COL MYTHIQUE
Contenu de la vidéo
Au coeur des Géants : le Galibier situé à 2645m d'altitude ce qui en fait le cinquième plus haut col routier des Alpes françaises.
Le Col d'Izoard fascinant avec son paysage lunaire
Un peu moins haut que le Galibier avec ses 2 361 mètres,
l'Izoard se rattrape largement dans le coeur de ses admirateurs par ses paysages. Passé le refuge Napoléon et une fois le col franchi, vous ne pourrez pas vous empêcher de vous arrêter sur le site de la Casse Déserte où vous aurez l'impression d'avoir atteint la lune.
Ensuite, sans transition, vous descendrez sur le Queyras dans la verdure et la fraîcheur de la magnifique vallée d'Arvieux.
En passant par Château-Queyras, vous verrez son étonnant château suspendu sur un pic. Un paysage si contrasté sur une même route, on en voit peu.
L'Izoard comme le Galibier ne sont ouverts qu'en été, normalement à partir de mi-mai. Généralement, L'Izoard ouvre quelques jours avant le Galibier mais cela dépend de l'enneigement.
Depuis Briançon, l'ascension de l'Izoard représente 20 km à 6,9 % de pente moyenne. La première partie du parcours est relativement facile dans les gorges de la Cerveyrette jusqu'à Cervières. Les dix derniers kilomètres se situent dans une superbe forêt de mélèzes et sont nettement plus difficiles avec une pente moyenne de 8 %.Départ de Briançon, Rond-point du Queyras, RD902 (1 245 m)
    Longueur jusqu'au col: 20 km
    Dénivellation positive : 1150 mètres
    Pente moyenne : 5,80 %
    Pourcentage maximal : 9,40 %
A wind of freedom blows through the valley. Here we are with crazy descents and the air that makes our helmets vibrate and intoxicates us with pleasure!
Image
Image
Romaric's opinion - Biker
Briançonnais, Rock Captain at the Grenoble Alpes Chapter. For those in the know, this means he's authorized to supervise and plan a biker-minded outing, of course. "A biker is more of a Harley rider, but not exclusively. He rides in a group and looks for scenery, tight bends and outings with regular breaks. He likes the passes for that feeling of crossing a border, finding cold and even snow in July, the different smells, smelling the edelweiss around a bend, stopping for a coffee", Romaric told us, "and eating a blueberry tart at the top of the Izoard", added a fan on Facebook.
Despite the power of their bikes, what they like best is not speed, but sharing rides and wide-open spaces. Everything you can find here, around the valley.
The bikers of the neighboring mountains know it and envy us this chance. With the Galibier and the Izoard in the lead, you will come back every year and your photo albums will be there to remind you. Because, of course, the pleasure is to do it, but keeping a trace of it to show it is also part of the trip.
Classic Selfie
Image
Think of the Classic selfie in front of the five signs: Briançon, Hautes-Alpes, Valloire, Haute-Savoie, and Col du Galibier.

#serrechevalier