Dare to gain altitude!
Take the lifts spread over the whole valley and discover a unique playground. Follow the numerous marked trails of the Serre Chevalier Altitude Area!
In a postcard setting, let your senses blossom. Enjoy the mountain scenery and the beauty of the blooming rhododendrons. Walk in the undergrowth of larches, the only conifers in Europe that lose their needles in winter and turn golden in autumn. Smell the subtle softwood scent that emanates from them.
Watch carefully. With a bit of luck, the local fauna will show up: playful marmots, graceful roe deer or fierce and proud capercaillies... A whole wonderful world within your reach!
After the effort comes the comfort! Take a break at one of the picnic areas, either on the Briançon side (Croix de la Nore) or on the Chantermerle side (Grand Alpe). They are equipped with planchas!
I buy my Pedestrian Pass from July 1st
Altitude trails: the essentials
It is really hard to choose between so many options. To help you, we give you a few tips with the not-to-be-missed walks. 
Notre Dame des Neiges ("Our Lady of the Snow") - Briançon
This mountainside chapel, ideally located, offers dramatic views of Briançon, the Durance valley and the surrounding peaks of the Briançon area, the Queyras and the Ecrins National Park.
> Arrival at the Prorel cable car (section 2) - Round trip - Distance: 1,4 km - Duration: 40 mn*
Image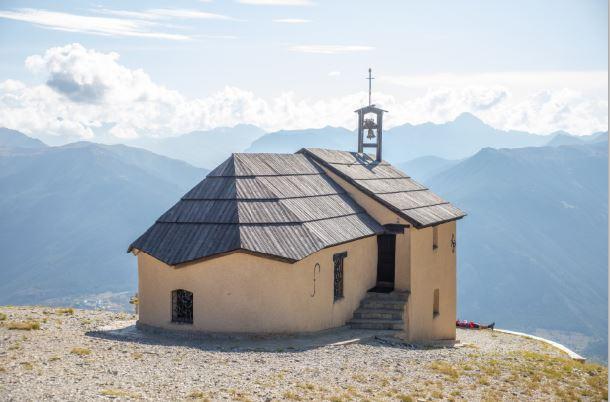 Le sentier des Lutins ("The Elves Trail") - Chantemerle*
Image
Take the family on the Lutins trail and explore some aspects of the mountain environment! This easy trail is both fun and educational with information boards all the way along.
> Arrival at the Ratier gondola - Round trip / - Distance : 1.8 km - Duration 1h30*
La Crête des Lauzières ("The ridge of Lauzières") - Monêtier
Image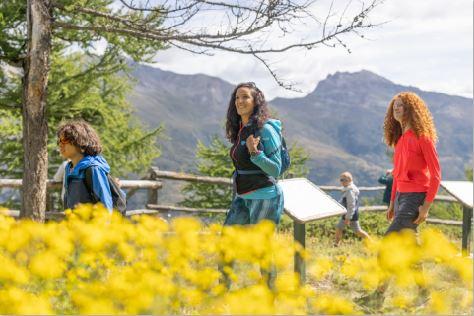 Caution: demanding walk... for your eyes! In front of such beauties, they will no more know where to look. Enjoy the view over the village of Monêtier and the whole Serre Chevalier valley. Admire the dazzling panoramas on emblematic summits of the Ecrins National Park and majestic glaciers. You touch the fascinating world of high mountain. 
Information boards along the path give you some explanations about the landscapes you pass through. 
> Arrival at the Bachas chairlift - Round trip - Distance : 2.2 km - Duration 1h30*
*Duration and distance given as an indication.

Discover the discover the many trails in the Serre Chevalier area, with their duration and distance, on the pedestrian map which is available at the Sales Information Point and in the Serre Chevalier Valley Tourist Offices.
For the full map in pdf format, click here.